One of the most important things to have in your home – especially in your kitchen – is a sturdy and reliable refrigerator. But if your family is large, you surely need an extra freezer. With a freezer, you get plenty of cold storage for all kinds of goods. Whether its ice cream, meat, fish, or other kinds of food and beverages that you want to keep either frozen or ice-cold, a dedicated freezer offers up plenty of benefits.
That said, while some freezers can cost a small fortune – especially higher-end freezers and industrial-grade freezers built for heavy-duty use – you don't have to spend an arm and a leg to get one for your home or business. Freezers come in so many different makes and models, each with their own set of features to distinguish them from the rest. With the sheer variety of freezers available here in Malaysia, we're sure you'll find one that suits your needs and, more importantly, your budget.
Are Cheap Freezers Good?
While more expensive freezers tend to feature some premium features and high-end build quality, there are plenty of affordable freezers available in Malaysia that can offer similar functionality at a fraction of the price. Sure, you probably won't find a smart freezer with embedded Wi-Fi and a plethora of patented features on a freezer with a more attractive price tag, but if it gets cold and keeps your goods frozen, then it does its job as well as the rest of them. Just take note that there will be compromises somewhere – and usually it's in the available features, build quality, and energy efficiency.
Top 6 Best Cheap Freezers You Can Buy in Malaysia
There are hundreds of freezer models available in Malaysia today, spread out across dozens of brands with prices ranging from a few hundred to well over a thousand or more. If you're looking for the best cheap freezers you can buy right now, then you've come to the right place. Check out the list below to find out which affordable freezers stand out from the crowd in terms of value, quality, and performance.
| Top 6 Best Cheap Freezers To Buy in Malaysia | Price |
| --- | --- |
| MORGAN MCF-1178L 116L Chest Freezer | |
| Hisense FC125D4BW 128L Chest Freezer | |
| ELBA EF-E1310 2-in-1 130L Chest Freezer | |
| MIDEA WD-186WA 142L Dual Mode Chest Freezer | |
| MECK MFZ-80 100L Chest Freezer | |
| MIDEA MUF-208SD 188L Upright Freezer | |
What is the best cheap freezer to buy in Malaysia?
---
1. MORGAN MCF-1178L 116L Chest Freezer
When it comes to price-to-performance ratio, the MORGAN MCF-1178L Chest Freezer is tough to beat. With a whopping 116L freezer capacity, this freezer offers one of the best cold storage options of the price. It features fast and deep freezing thanks to the highly energy-efficient compressor, and it's easy to clean, too, thanks to the epoxy inner.
Measuring about 580mm long and 520mm wide, this chest freezer may need a bit more floor area to accommodate its larger capacity. Fortunately, since it stands 830mm high, it's accessible enough that you don't have to reach down to open the lid, so it's nice and user-friendly.
The MORGAN MCF-1178L comes with an adjustable thermostat so you can use it as a freezer (-8°C to -24°C) or as a refrigerator (5°C to -3°C) so it's a versatile cold storage option. Completely free of harmful CFCs, the MCF-1178L is covered by five year warranty for the compressor and a one year general warranty on everything else.
Get the Morgan MCF-1178L Chest Freezer now at
Recommended: The 10 Best Mini Fridges to Suit Any Space and Need in Malaysia
2. Hisense FC125D4BW 128L Chest Freezer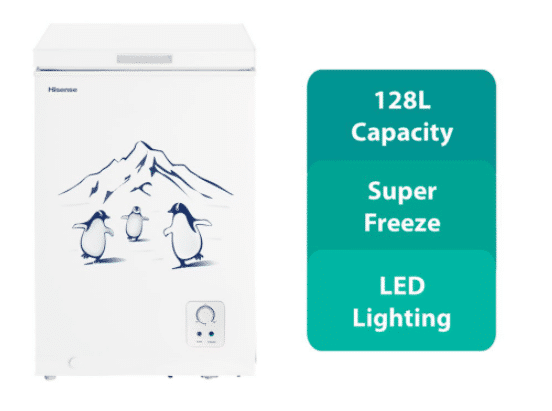 When using the Hisense FC125D4BW, it's apparent that this chest freezer was designed with users in mind. Standing at 854mm high, the freezer is easily accessible so you won't have to bend down to open the lid. Measuring in at 546mm long and 479mm wide, this freezer occupies less space than other freezers mentioned on this list, especially with its specially-designed ultra-thin hinges which lets you push it up against the wall without compromising lid motion.
One of the best things about the Hisense FC125D4BW is its Super Freeze mode, which provides super-fast, deep freezing at temperatures as low as -30°C. It even comes with a bright built-in LED light to illuminate the freezer's contents whenever you open the lid. Mechanical temperature controls offer reliable control albeit less-precise than a digital thermostat.
Unlike most other chest freezers that offer dual functionality, the Hisense FC125D4BW is a dedicated freezer through and through. You might not get a refrigerator mode here, but with its freezing capabilities alone this chest freezer offers superior performance for the price.
Get the Hisense FC125D4BW Chest Freezer now at
3. ELBA EF-E1310 2-in-1 130L Chest Freezer – Good for Home/ Small Business
With 130L storage capacity and an attractive price tag to boot, the ELBA EF-E1310 is our top pick for anyone who wants to get the biggest freezer for the lowest price without compromising on quality. With standard features like mechanical temperature controls and a safety lock, this chest freezer is a cost-effective and budget-friendly choice.
The ELBA EF-E1310 is pretty standard across the board in terms of features and capabilities, but it does offer a smooth user operating experience. Measuring in at 545mm wide and 560mm long, and standing at a height of 560mm, this freezer should fit comfortably in most spaces without taking up too much floor area. Plus, with its recessed handle, you avoid the common problem of bumping into it accidentally.
Despite its versatility, the ELBA EF-E1310 falls short in terms of freezing capabilities. While it can comfortably reach temperatures as low as -18°C – which is enough to store and preserve meat and other perishables – other freezers offer even lower temperatures for faster, deeper freezing.
Get the ELBA EF-1310 Chest Freezer now at
4. MIDEA WD-186WA 142L Dual Mode Chest Freezer
The MIDEA brand is synonymous in Malaysia with budget-friendly pricing, good build quality, and reliable performance. The MIDEA WD-186WA Chest Freezer is a testament to the brand's reputation and offers one of the best-performing budget-friendly freezers available on the market today.
With a capacity of 142L and an easy-to-clean inner wall, the MIDEA WD-186WA is a large freezer that measures 628mm long by 562mm wide. Standing at 850mm, it's very user-friendly and easily accessible. It might not have all the bell and whistles, but it's got plenty of customer-oriented features like roller feet for easy handling, and silent hinges for noiseless operation. Capable of temperatures as low as -24°C, this freezer comes with dual operation so you can use it as either a refrigerator or a freezer.
The MIDEA WD-186WA is easily one of the biggest and highest-quality freezers you can get for the price, but for those with smaller spaces, you'll want to opt for something a little smaller. This 142L freezer takes up a significant amount of space, and if floor area is at a premium, you'll find better options for you elsewhere on this list.
Get the MIDEA WD-186WA Chest Freezer now at
5. MECK MFZ-80 100L Chest Freezer
One of the biggest selling points of the MECK MFZ-80 is that it's powered by an LG Compressor. Known for their high-quality home appliances, LG continuously sets the bar for products around the world, and MECK is proud to announce that the compressor that goes into this freezer carries the same quality and reliability associated with the LG brand.
That said, the MECK MFZ-80 isn't just a good freezer because of the compressor. With an outstanding price point and a capacity of 100L, this chest freezer offers versatile use thanks to its dual functionality. You can use it as a refrigerator with a temperature of up to 5°C, or as a freezer capable of temperatures as low as -24°C. This freezer is also a little more compact than other freezers on this list, measuring in at 530mm wide and 440mm long, and it also stands a little shorter at 830mm.
Get the MECK MFZ-80 Chest Freezer now at
6. MIDEA MUF-208SD 188L Upright Freezer
As mentioned in this list, there are plenty of affordable chest freezers out there for those looking for the best value for their money, but if you're willing to spend a little more to maximize your floor area, getting an upright freezer would be better. Upright freezers are typically more expensive than chest freezers, but if you want a high-quality one that's still plenty affordable, we recommend the MIDEA MUF-208SD.
Standing upright with a height of 1420mm, this freezer occupies just about the same space as other freezers mentioned above measuring in at a square 550mm. However, thanks to its upright orientation and height, this freezer offers an incredible 188L of cold storage capacity.
With Super Freeze functionality and low noise operation, the MIDEA MUF-208SD is our top pick for a cheap but reliable upright freezer that saves space while offering superior capacity and freezing capability.
Get the MIDEA MUF-208SD Upright Freezer now at
Which is the Top Cheap Freezer in Malaysia
A good freezer doesn't have to be expensive, and we hope we proved that with our curated list above. Whether you're looking for extra cold storage for your home or business, or looking to upgrade your old freezer for cheap without compromising on quality, we hope you found what you were looking for right here with us.
Read more:
Best Food Steamers in Malaysia
We picked our favorite juicers & blenders